Washing And Cleaning
Hand cleaning with use of a soft brush and squeegee while use of appropriate cleaning agents. We select appropriate detergents to a given surface so that the cleaning would be the most effective. This method is used to cleaning of the glass surfaces, Cembrit surfaces and other flat surfaces.
We use pressure washer to more serious dirt which enables pressure cleaning with hot or cold water to 500 bar.
We also use vacuum cleaners in confined spaces such as engine rooms, production lines, steel constructions, supermarkets, galleries etc.
We perform:
– cleaning of the lift shafts
– cleaning of front facades and glass facades both in office and industrial standard, post-construction cleaning
– cleaning of aluminium, stone and metal surfaces
– high pressure washing with water and chemical agents
– fumigation of faces performed from expended polystyrene and mineral plasters
– vacuuming of steel constructions, high storage racks
– washing, cleaning, vacuuming of zones over production lines
– sand blasting/ hydro sand blasting
– graffiti removal / anti-graffiti protection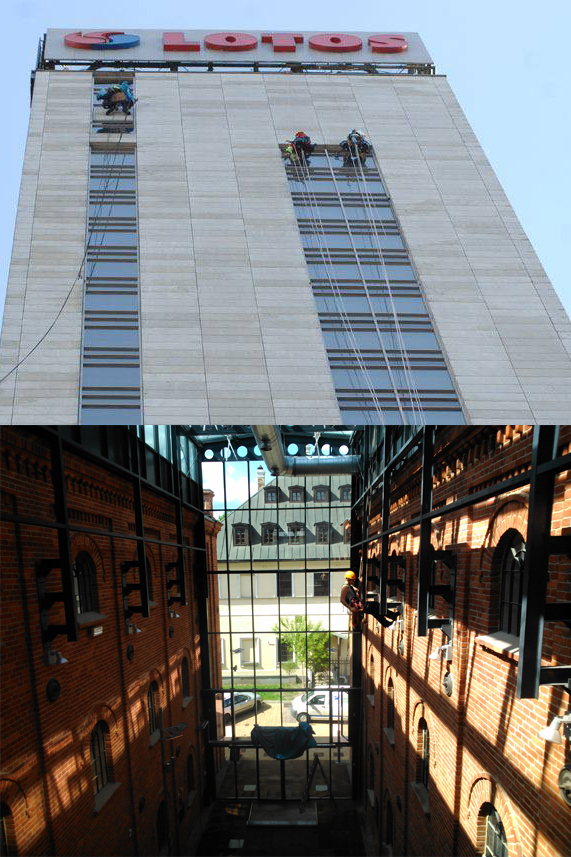 All works are conducted by qualified rope access technicians, working in IRATA system who have many years of experience in high altitude works as well as high altitude rescue operations within Poland and abroad.